San Diego Juvenile Defense Lawyer
Juvenile Rights and Protections in San Diego
Some of the rights of juveniles in juvenile court differ from the rights of adults. A juvenile case will have a judge for the adjudication hearings as opposed to a jury of peers. Juveniles cannot have public trials, nor do they have the right to bail.
Despite these differences, the law also provides additional protections to juveniles such as:
Sealing records so juvenile offenses do not affect the juvenile's entire life
Expunging the record once the juvenile turns 18 and after meeting certain conditions
Rights of notice of their delinquent act before the adjudication hearing
Right to pre-release for nonviolent delinquent acts
Right to a San Diego juvenile defense attorney
If they cannot afford an attorney, the right to a free public defender
Much like differences in sentences, these protections should help rehabilitate the juvenile into a productive adult.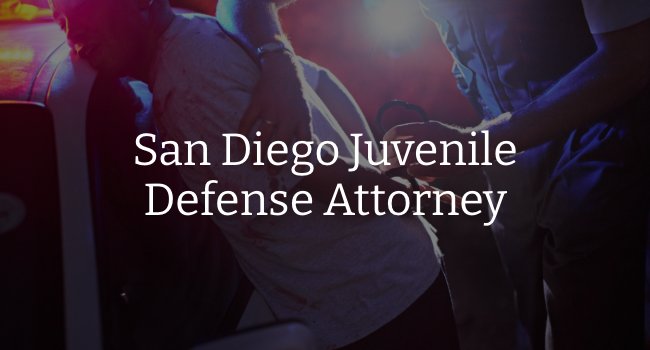 Content
What is the Role of a Juvenile Defense Attorney?
While a San Diego juvenile defense attorney can help support the juvenile's family through the process, the role of the attorney is to advocate for the best interest of the juvenile. This means that the juvenile defense attorney will serve the state's interests of their client, who is the juvenile, and not the parents.
The scope of representation in a juvenile defense trial should reach beyond the scope of an adult criminal trial. Due to the many complications and differences between an adult and juvenile trial, the juvenile crimes attorney should provide counsel and representation both before the initial detention hearing and through the post-disposition phases. With your San Diego juvenile defense lawyer, you can be assured that you will be receiving the most extensive representation, no matter the offense.
What are the Risk Factors of Juvenile Delinquency?
While California's youth and young adult arrest rates have been declining in the past few decades, the risk for juvenile delinquency remains very real. By identifying the major risk factors of juvenile delinquency, it is possible to act to continue to reduce delinquent behaviors and acts, further reducing arrest and detention rates.
Risk factors are within several domains, including individual, family, peers, and community. Any of these potential factors could show a risk for delinquency. Some risk factors include:
Bullying and rejection decreasing exposure to positive social opportunities
Parents' divorce
Early antisocial behavior and low inhibitions
Exposure to family violence
Gang involvement
High crime neighborhoods
High levels of parent-child conflict
Home in discord
Large family size
Low levels of positive parent-child interaction
Maltreatment and abuse
Parental antisocial history
Peer pressure
Poor academic performance
Poor cognitive development
Poverty
Social disorganization
Teenage parenthood
Unsafe school environments
While the presence of any one of these factors does not guarantee juvenile delinquency, several risk factors occurring in tandem can lead to delinquent behaviors. Certain risk factors can also have greater effects on children in different stages of development. The chances of these risk factors leading to delinquency are reducible by implementing protective strategies.
Protective Strategies
Protective strategies fall into the same influence categories as risk factors: family, individual, peers, and community. They can help reduce the risks of juvenile delinquency. Some protective factors include:
Positive social skills
Club and religious affiliations
Shared family activities
Open discussions about problems and issues with parents
The presence of a positive adult influence
Exposure to positive experiences
Association with healthy and positive friendships
Safe school environments that meet academic, social, and emotional needs
Communities that promote healthy activities
To provide the best potential environment for juveniles, ongoing assessment of risk and protective factors is necessary. It is also important to not just address generic needs, but those of the individual juvenile. By building on individual strengths, the chances of future delinquency and justice system involvement decreases, and children can learn to thrive while overcoming challenges.
How do I Hire a San Diego Juvenile Defense Attorney?
If you're under the age of 18 and you've been arrested or charged with a crime, speak with our San Diego juvenile crimes lawyer George H. Ramos, Jr. If you have questions regarding juvenile crimes, contact George H. Ramos, Jr. today for a free consultation.
We are available to take appointments days, evenings, and weekends. our law office is bilingual and we accept all major credit cards.
Former Prosecutor…Now an Aggressive San Diego Juvenile Crimes Attorney in San Diego
George H. Ramos, Jr. is a former prosecutor who knows how prosecutors evaluate cases and he uses that information to your advantage. George H. Ramos, Jr. aggressively defends juvenile clients to prevent the stigma attached to having a juvenile record.
Juvenile Delinquency Charges
Juveniles are defined as minors or those under the age of 18. In most cases juveniles are treated differently from adult offenders. Even though many juvenile offenses, such as shoplifting, receiving stolen property, assault, sexual assault, etc., are comparable to adult offenses, the penalties could often be more severe for juveniles. Offenses that are unique to juveniles include breaking curfew and truancy.
There are separate courts, institutions, and rules governing the juvenile process; and generally, the juvenile court system will make every effort to rehabilitate the child rather than choose incarceration. Only in extreme cases such as murder, kidnapping, arson, and rape will a juvenile be tried as an adult. The courts may hold a "fitness hearing" to decide whether or not to transfer the juvenile to the adult court system. The court will base its decision on the following factors:
The seriousness of the offense
The child's criminal sophistication
Previous offenses
Previous attempts to rehabilitate the offender
Court's belief that future rehabilitation attempts will be unsuccessful
San Diego County is home to two maximum-security juvenile detention centers. East Mesa Juvenile Detention Facility which opened in 2004, is just east of Otay Mesa and the Kearny Mesa Juvenile Detention Facility is in the suburban neighborhood of Birdland. San Diego is also home to three minimum security rehabilitation facilities throughout the county. The idea of your child spending time in a juvenile detention facility is always a scary thought, that's why it's imperative to hire a San Diego juvenile defense lawyer to represent your dependent while facing juvenile offenses.
Contact an Experienced San Diego Juvenile Defense Lawyer Today
The laws may differ for adults and juveniles, but for the most part, the rights do not. For example, you must be read your Miranda rights. A good San Diego juvenile criminal defense attorney may be your only defense against facing jail time or probation. In every case, the charge must be vigorously defended to prevent a conviction.
---
"Highly recommend him if you ever need a lawyer.  Mr. Ramos recently handled a legal matter for us and happened to be very professional, knowledgeable and effective.  He was extremely helpful and was able to have our case dismissed!  Words can't express our gratitude and we are very happy with the results.  Thank you!"
-Tatiana